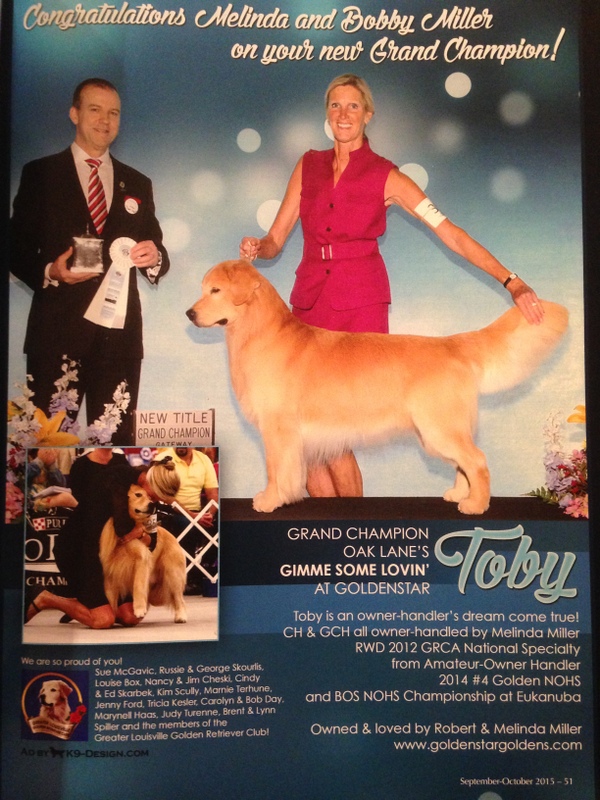 GCH &
Int CH Oak Lane's Gimme Some Lovin' at Goldenstar
December 9, 2012 – International Champion 
February 8, 2013 – AKC Champion
May 28, 2015 – AKC Grand Champion
(Owner/handled to all titles)
Sire:  CH GI-KI'S G'WAIT SOCK IT TO EM
Dam: GCH GI-KI'S CHASIN' MOONBEAM
February 14, 2008 – May 16, 2018
Clearances on request
_________________________________________________________________________________________________________________________________________________________
Toby gets invited to the 2014 Eukanuba Owner Handled Finals
#4 golden retriever/#1 male
Best of Opposite In Owner Handled Finals

Chillin' on the table                              King of the bed!

Toby and Me ready to show

                          In the Ring at Eukanuba

TOBY takes Best of Breed and Group Placements – Knoxville, TN, November, 2013
                   Toby and Mom waiting for our turn in the ring…..

February 8, 2013 – INDY Classic  WD, BOW – 3 point Major  NEW CHAMPION!!!!!!!!

Toby wins the Amatuer Owner Handler class and goes on to take Reserve Winners Dog at the 2012 Golden Retriever National in Gray Summit, Missouri.   September 7, 2012

Best of Breed, Lebonon, IN, Oct. 2012                         Winners Dog/3 pt major Aliquippa, PA Oct. 2012
 
RWD at four shows, Muncie, IN – August 2012

Corydon Shows, June 2, 2012, Toby takes Winners Dog, Best of Winners and Best of Opposite Sex.

May 19, 2012   4 years old                                                        Toby with daughter Jessie (18 months)

Toby – September 20, 2010

Denver & Chris, Lizzie & Barb, Toby & Melinda                                    Denver, Rocky, Lizzie and Toby                  
Toby's littermate and his mama.  Lebanon, IN, Sept. 2010

Bobby and Toby                                                                                              Melinda and Toby
September 19, 2010,  Lebanon, IN

Winner's Dog and Best of Winner's at Corydon 2010, Saturday!!!!!

Corydon 2010, Sunday….and another WD and BOW's

Toby at 2 years of age at the Louisville Cluster…looking pretty and having a ball with his towel…aren't I handsome???

Winner's Dog & Best of Opposite (12-18 class)  Southern Indiana K.C.  June, 2009

18 Months…August 2009

18 months ….focused

 

Toby, Lexi, Katie, Lucy, Allie and Molly
August, 2009