Welcome to Goldenstar Goldens
We have been breeding and raising goldens in our Kentucky home for over 35 years while showing in conformation, agility and obedience. The show quality goldens we breed all have four genetic clearances (hips, elbows, hearts and eyes).  Puppies are placed in loving pet family homes. All eight live with me in my home and are a huge part of my every day life whether it's running around the acreage, running around a show ring or running through an agility course.
We call them the velcro dogs… because they always want to be with you.
I can't imagine life any other way.
I'm sorry I have not been better at keeping this site up to date with more pictures, but the past years with fighting a daily battle with Bobby's two forms of stage four cancer,  It was the greatest challenge of both of our lives and we fought really hard through so much chemo and radiation and all that goes up and down with cancer.  Bobby lost his battle and  I lost my husband of 30 years on September 20, 2016.  The last six months took ever ounce of my soul trying to be a good caregiver, and the last 21 days where …well there just are no words.    So please bare with me as I try to find my life again.  I can tell you that my dogs have been my salvation through all of this.  They have given me purpose and filled a very sad heart with love.  I would not be here without them.
2018 is going to be a exciting year as it's the first time in seven years that I have kept one of my own pups.  My golden family has grown to eight!!!  Toby and Ruby blessed me with a beautiful girl named Goldenstar's Be Still My Heart who I call "Jules".  Then about three months later I added a Toby x Emmy son named Goldenstar's Miracles Do Happen, who is called "Deacon".  These two have kept me on my toes to say the least, but they have also been so good for each other… 
Bella ( Stanley x Emmy) joined the family in 2019, and then in 2020 Skye joined the family.
For what seemed a very brief moment I had eight goldens that I loved and cherished…then the most heart breaking thing happened…
May 16, 2018, I lost my precious heart boy, Toby!   I will share the story on his page….I am devastated!  This picture is from his last show in 
March, 17, 2018, where he won the Veteran's 10-12 year old class. He and I were on a cloud that day…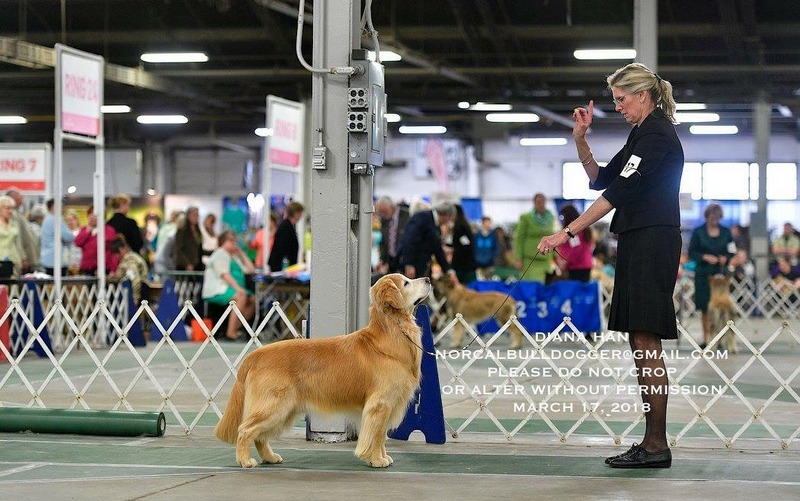 January 2018, first time ever I have sent one of my girls (Gabi) out with professional handlers to enjoy the show ring.  With it just being me now, I knew I would not have the many opportunities I would need to get this girl's championship.  I was fortunate to get her first two points and put an International Champion title on her.   Well, I have not been let down.  I knew she was ready and within just a couple weeks she had her first MAJOR win.  By February, she had two more MAJOR wins and to date is only one point away from her AKC Championship.  I'm not sure I could be any prouder.
UPDATE on GABI —- As of March 24, 2018, she is now known as American and International Champion Kattwalk's Breaking Newz @ Goldenstar….. She also has 20 Grand Champion points to date!!!!!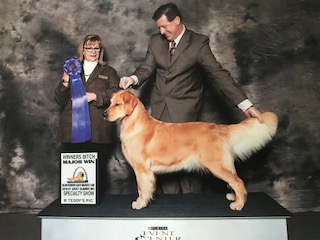 June, 2022, Deacon and Skye become CHAMPIONS!!
what a journey it was for Deacon as he was winning, then COVID hit.  Shows were cancelled and it took time to be able to get him out again.  Deacon had all but three points to finish his title when I had the opportunity to send Deacon and Skye out with Carrie once again.  It didn't take long and they both were finished Champions.  Even winning grand champion points before coming home. Deacon even took a Best of Breed.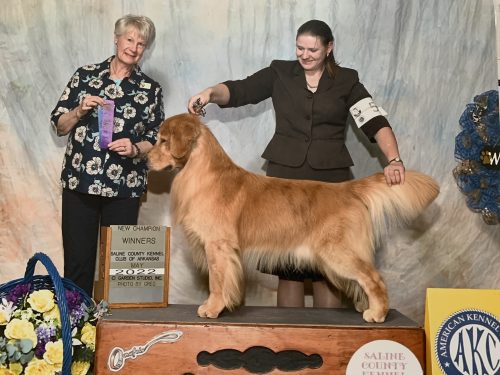 DEACON… MY VERY SPECIAL BOY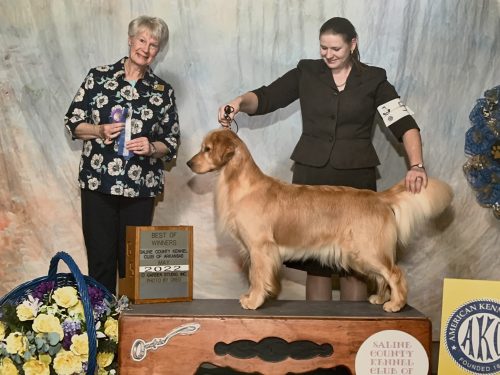 Skye Baby….what a beautiful girl she has become!!!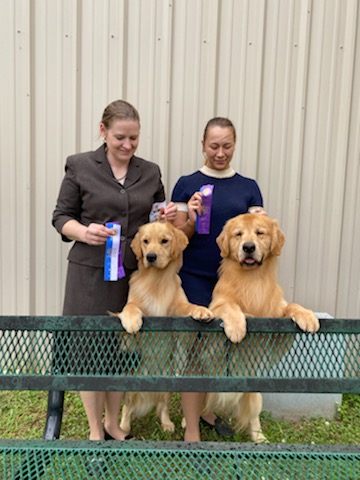 The day Skye and Deacon both had Major wins!! Deacon finishes his championship..Skye is close behind!
*********************************************************************
As of May, 2015, Toby is our first Grand Champion and International Champion totally owner-handled!!!!
Enjoy our site and our pictures.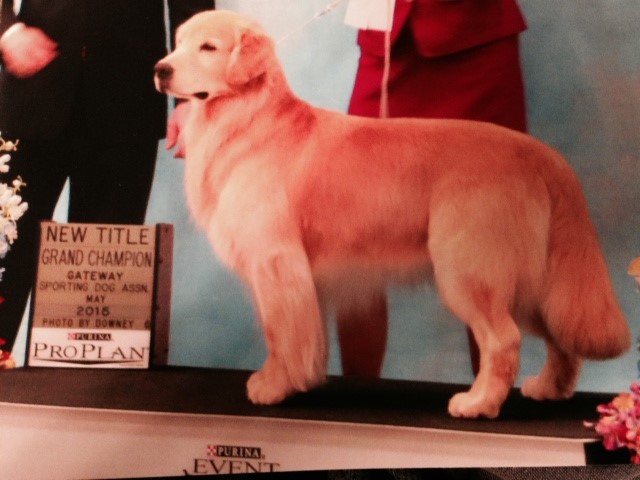 GCH & International CH Oak Lane's Gimme Some Lovin' at Goldenstar  "TOBY"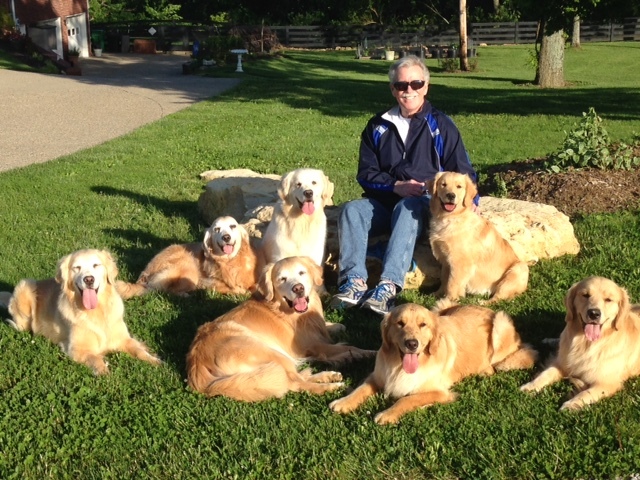 Bobby and the clan – May, 2016
Jessie, Lucy, Ruby, Toby, Kaylee, Gabi and Emmy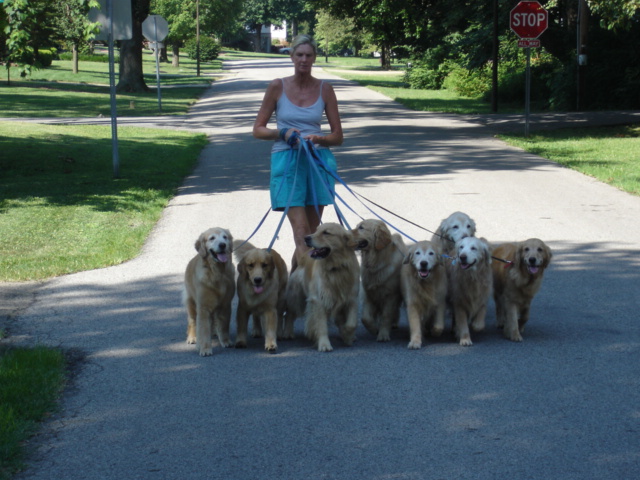 Allie, Lexi, Toby, Molly, Katie,Teddy, Jody and Lucy out walking with Mom.
Goldenstar Goldens, July, 2010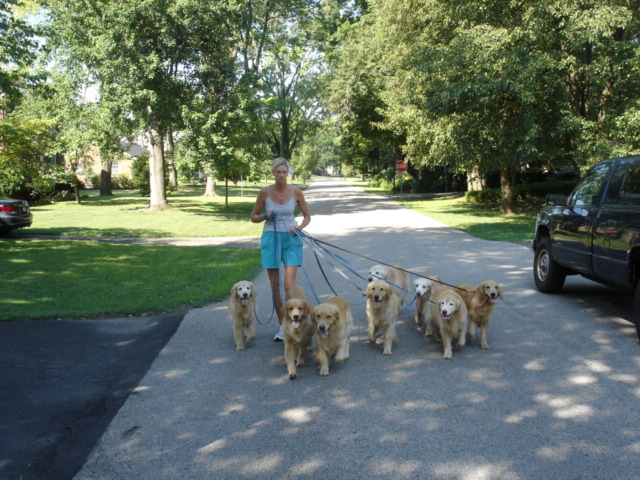 Golden Love………
Me with all of Allie's last litter…a golden blanket!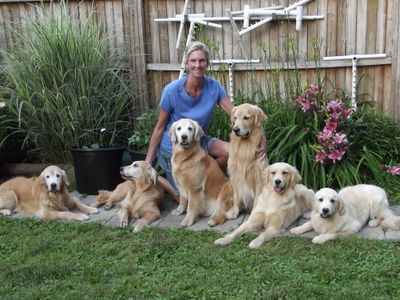 Me and my kids, Katie, Lucy, Allie, Toby, Jessie and Ruby – May, 2012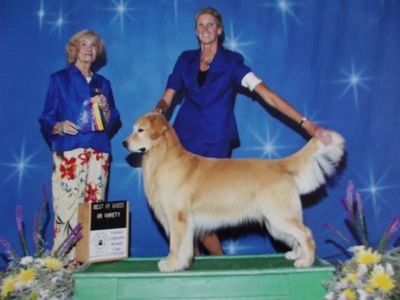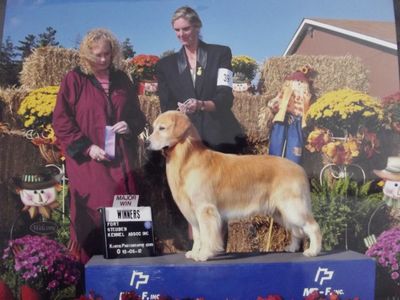 2012 – Toby on his way to being a Champion
 Best of Breed in Lebanon, IN and Winner's Dog for his first three point major in Aliquippa, PA
I am one proud Mom!!!!
MY FIRST AMERICAN AND INTERNTIONAL CHAMPION – ALL OWNER/HANDLED
AM & INTL' CH OAK LANE'S GIMME SOME LOVING AT GOLDENSTAR
"TOBY"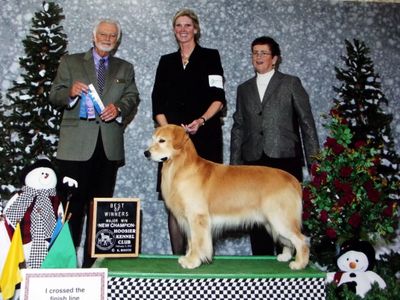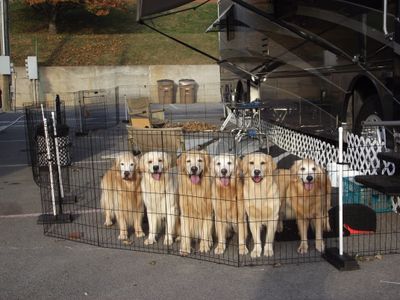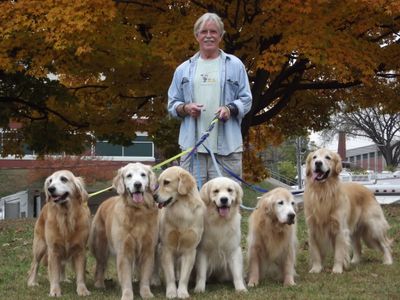 November, 2013, Knoxville, TN – All six enjoying their travel time and walks.   Road trip!!!!!
Katie, Ruby, Toby, Allie, Jessie and Lucy                                        Lucy, Allie, Jessie, Ruby, Katie and Toby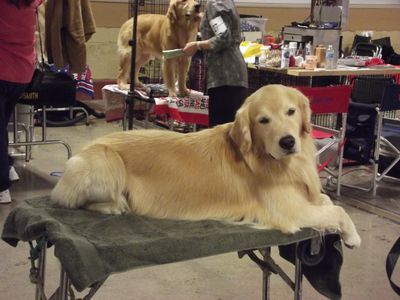 Toby Chillin' on the table before taking Best of Breed and a group 3!!!
Knoxville, TN  November, 2013