Pictures, Pictures, and more Pictures of

past

Goldenstar Golden puppies
*************************************************************************
Lucy x Toby puppies–May 16, 2011….
Right on time, Lucy delivered eight beautiful blonde babies on Monday.
Six boys and two girls. Mama and babies and doing great and Daddy Toby
is handing out bisquits….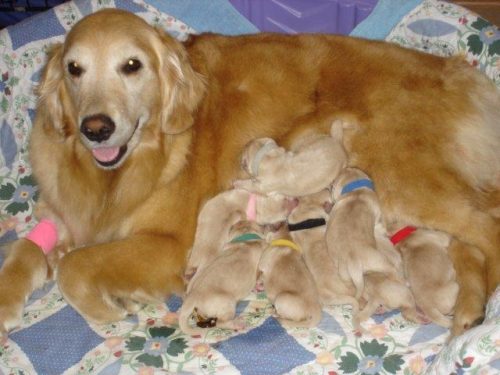 Just hours old, Lucy and her babies.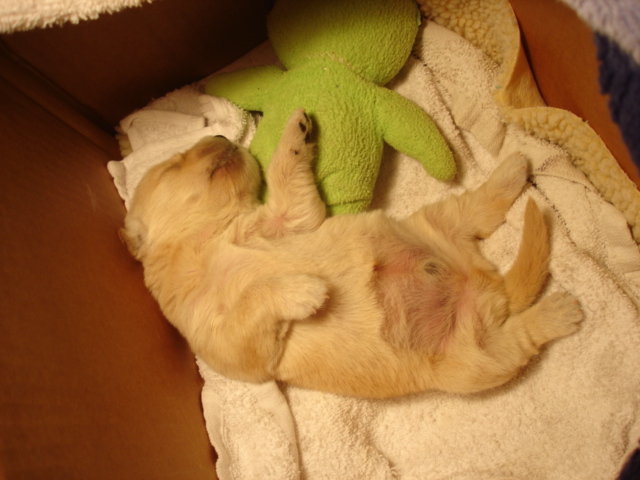 LB with his little green man…totally comfortable with a full belly…
One week old….May 23, 2011, "LB" Little Bits in the middle.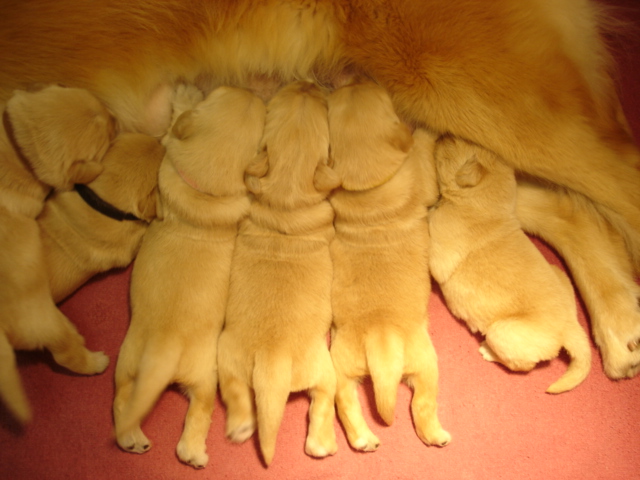 12 days old…"move over you hogs, let the little guy in…"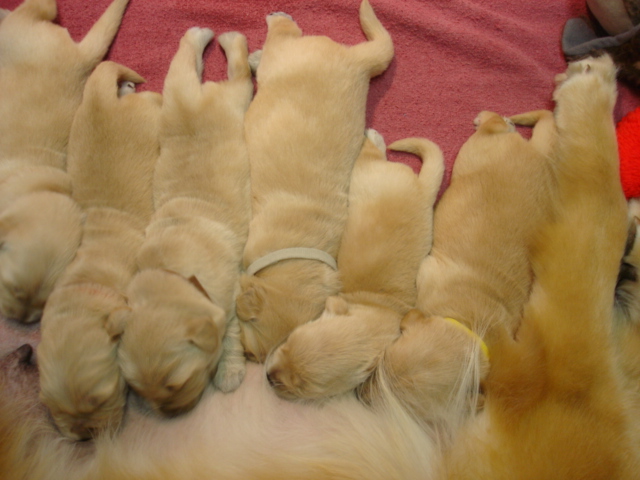 "I found a spot Mom, they won't move me now!"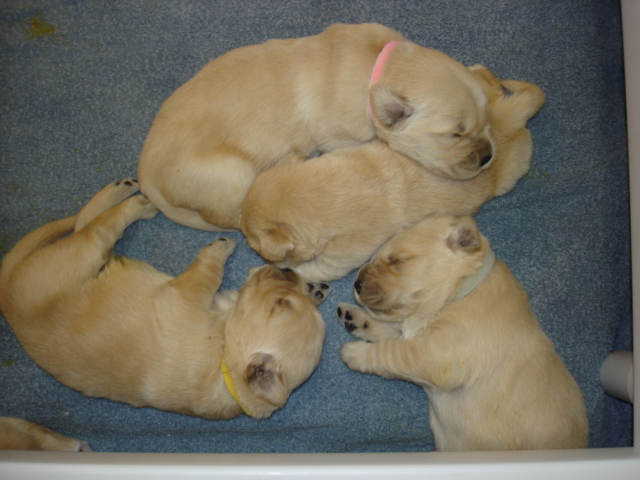 LB, his sisters and biggest brother at 13 days old.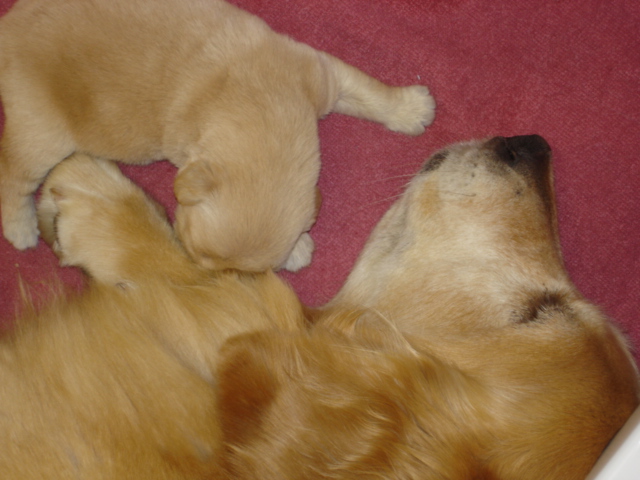 LB and Mama Lucy…"I love you Mom!"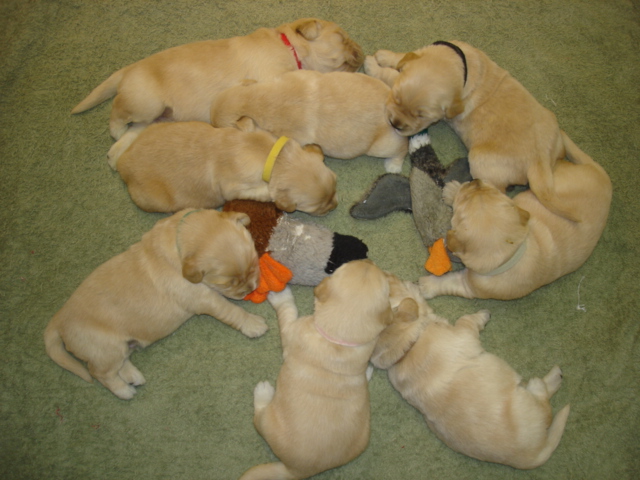 Two weeks old….May 30, 2011…we like our ducks!
Sunday, June 5, 2011…a very tough day…
The stresses of being a breeder got worse yesterday. My heart is now breaking too. People just cannot understand what you put into being a good breeder and the toll it can take on you. Today mine was taken to a higher level as I have never lost one of my babies at almost 3 weeks of age.
Yesterday morning Spice (Yellow) was having a little trouble breathing. She had nursed in the early hours and seemed ok, but it turned quickly. After talking to the vet at 8 AM, I continued to do for her as I was instructed, but by 2 PM she was not better and I was worried….
I got Spice to the vet and had antibiotics and sub-q fluid and came home with hope, although the vet said she was gravely ill with aspirated pneumonia. She was resting and all was well until 6:45…I had been watching her non-stop and noticed she moved her head in an unusual position. I stepped over to right her head and she was gone. I picked her up immediately and she was listless and blood had dropped from her nose. Nothing brought her back… I am just devastated….as she was not the one that had needed extra care. So far LB is eating and thriving, but I know they are never out of the woods….breeding is not for the faint of heart.
Not only do I grieve, but the family that will not get their little girl will grieve too.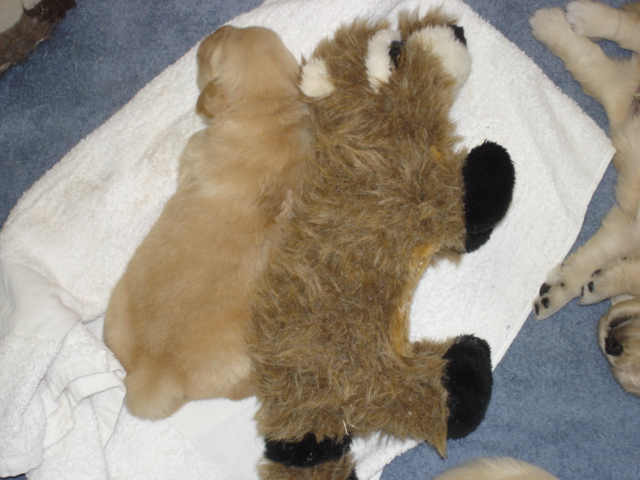 LB with his raccoon…I'm almost as big as he is…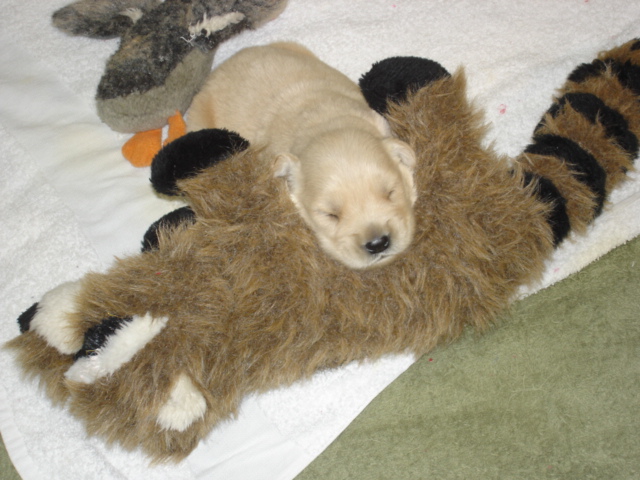 I got him mom…I'll hold him down and just sleep on him.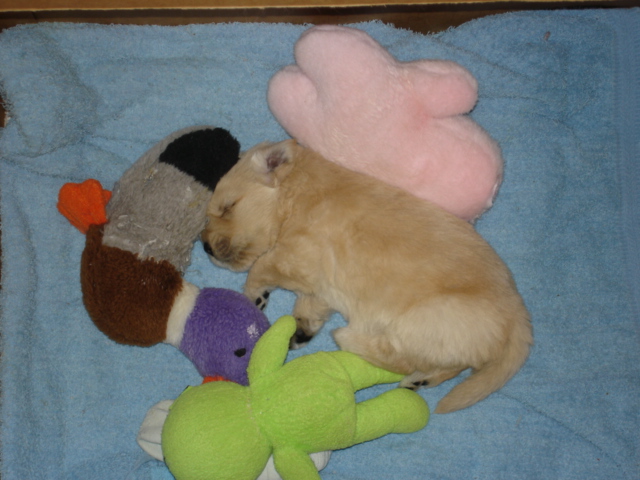 I love all my toys….LB sleeping ..3 weeks old.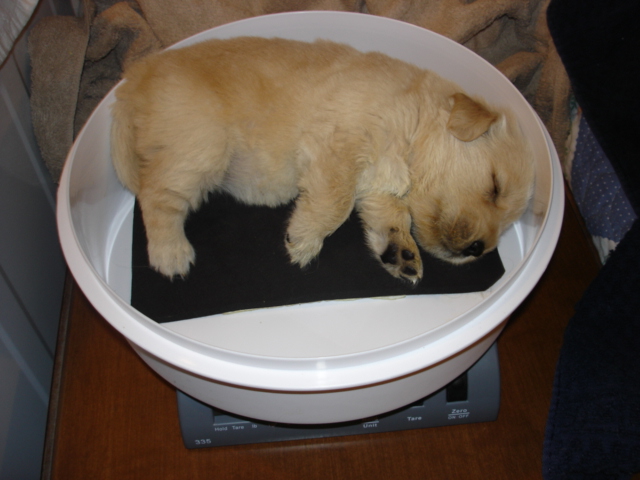 LB sleeping in his bowl on the scale..
"
Mom weighs me every day, and I'm about to outgrow this silly bowl!"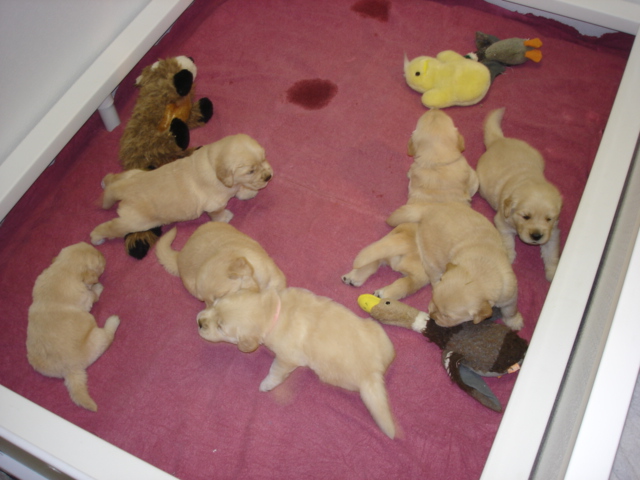 Playing…with full bellies.. 24 days old. June 9, 2011.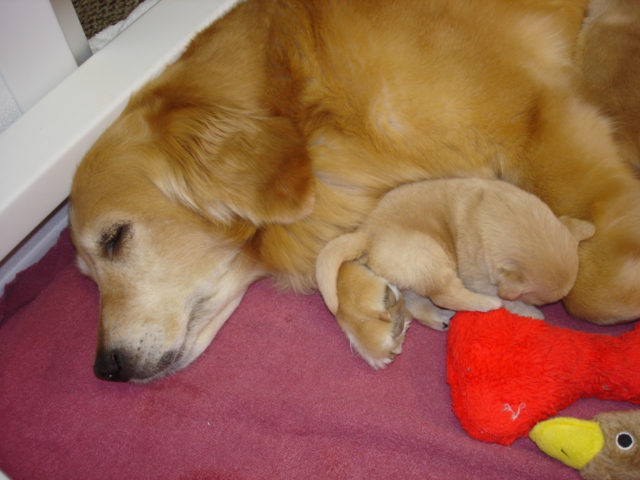 No safer place than with Mama Lucy…..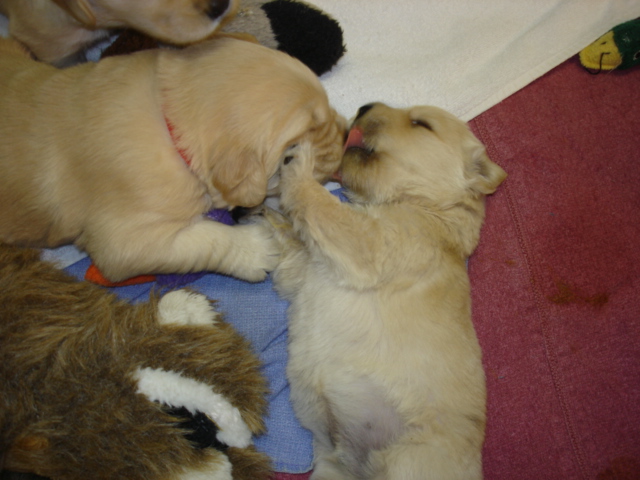 Nic and LB, "I'm not kissing him, I'm licking the food off his face!"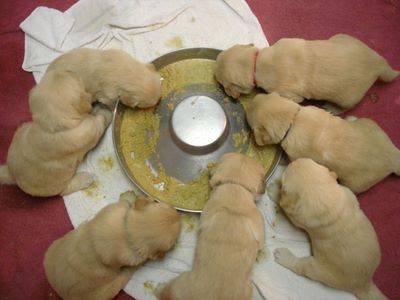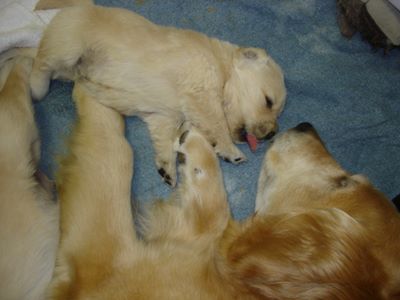 First meal, oh what a mess, and LB giving Mama a kiss…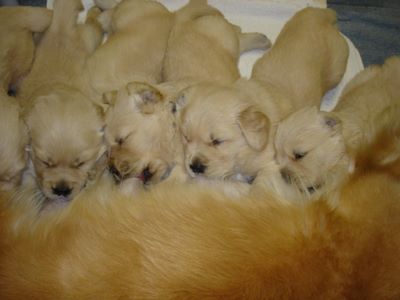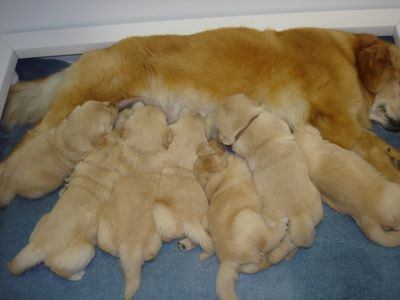 It's always meal time….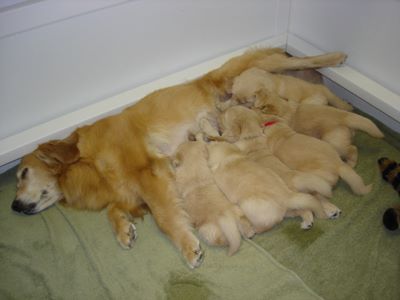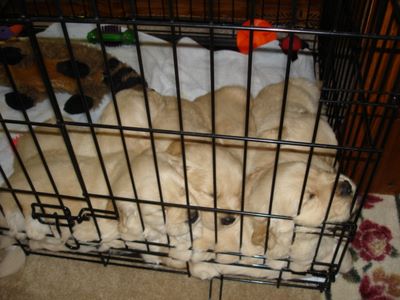 We all want to be in front of the fan….1st night in crate.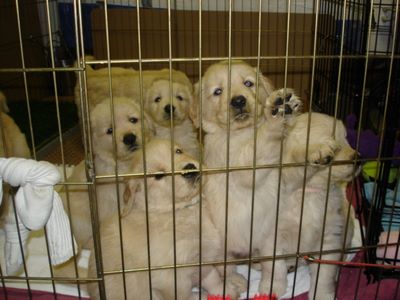 Follow me guys, I'll show you how to escape….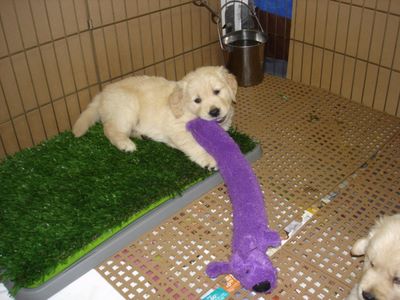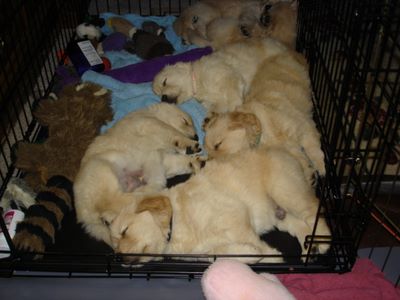 I got the new toy..it's bigger than me…….sleepy time comes quickly….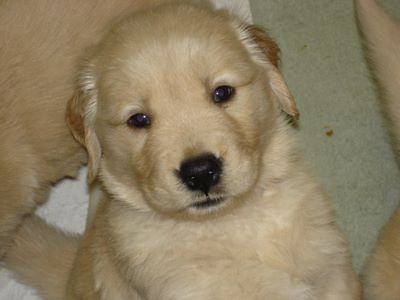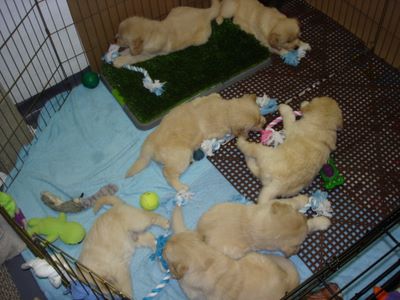 Yes I know how cute I am……..Mom got us all new rope toys…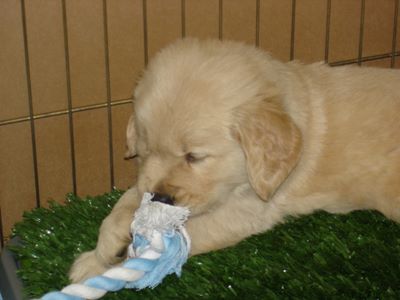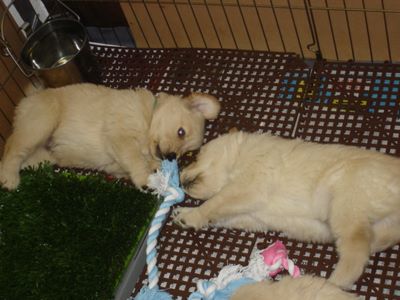 No you can't have mine too…Blue is for boys, pink is for Sugar…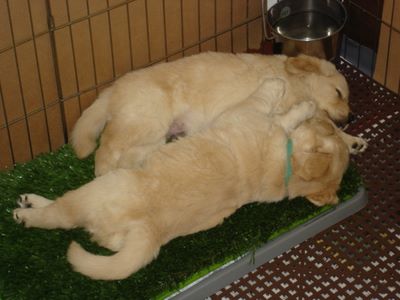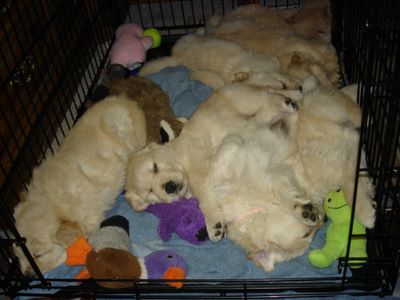 Six weeks old and quiet as a mouse………June 27, 2011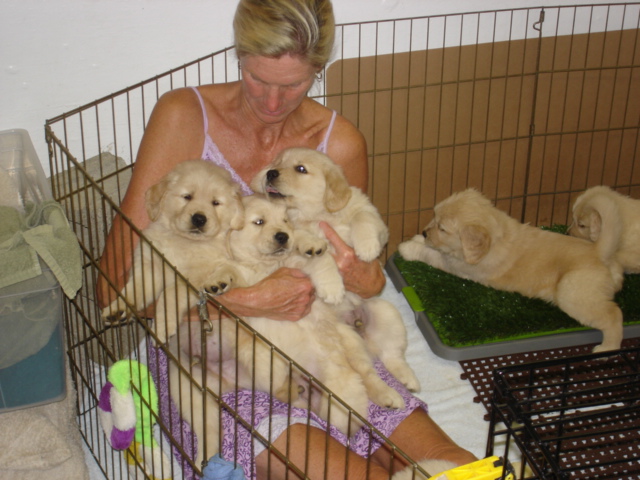 I think they call this heaven…..or an arm full of boys!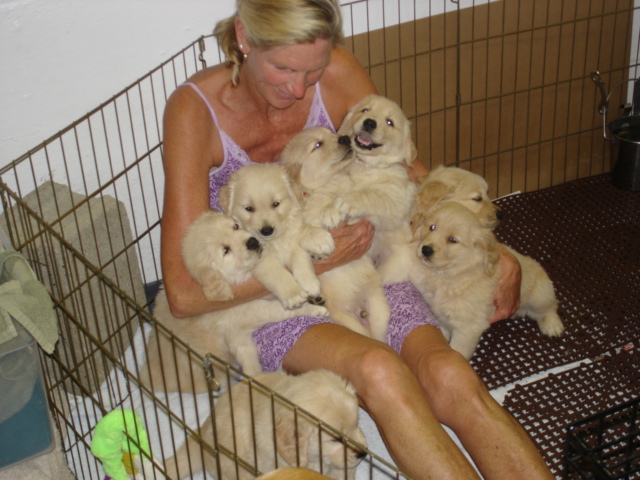 Do you know how hard it is to keep seven seven week olds still????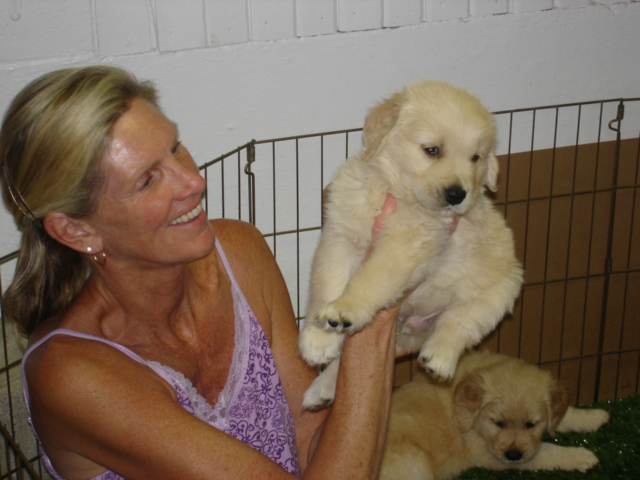 LB was little bits…he's not any more…he's a hand full!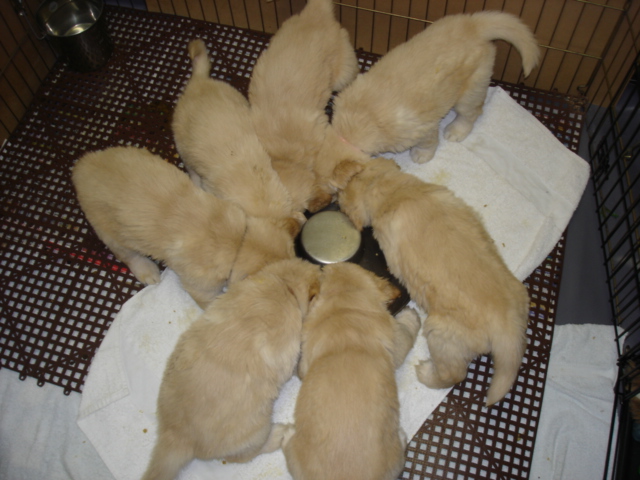 The last meal with all seven together…they loved to eat.
*************************************************************************
Allie and her eight little ones (four boys and four girls) are all doing well after a c-section on election day, November 2,
Scroll down for new pictures………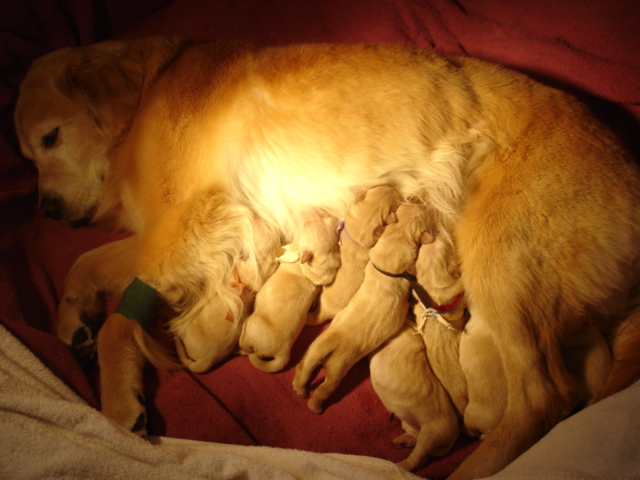 Just an hour after getting home from a two hour surgery. Mama Allie is so tired and the precious little ones are hungrey!!!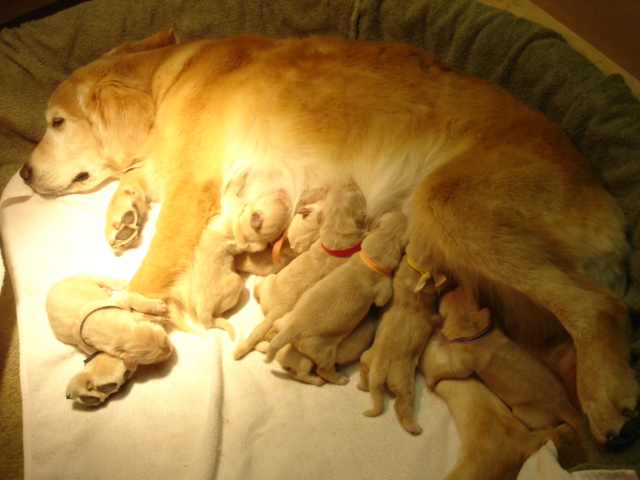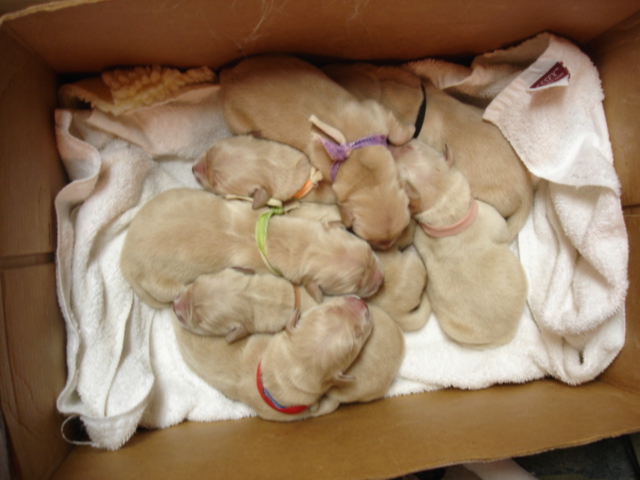 Two days old…a box full of babies….. Everyone is doing great!!!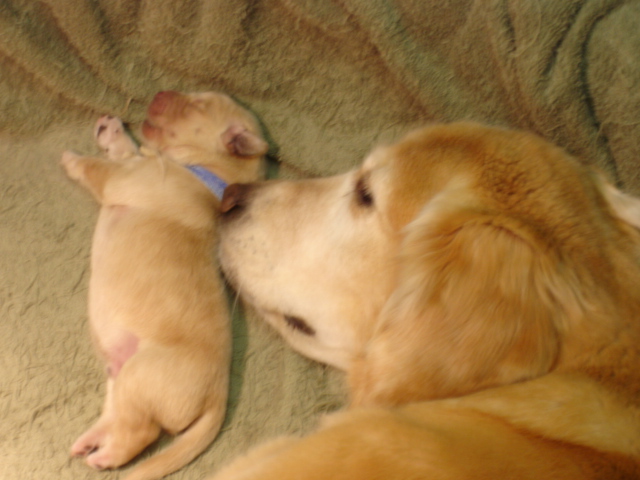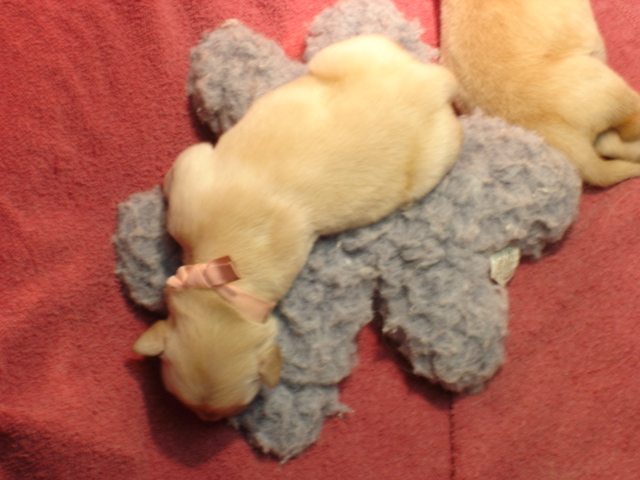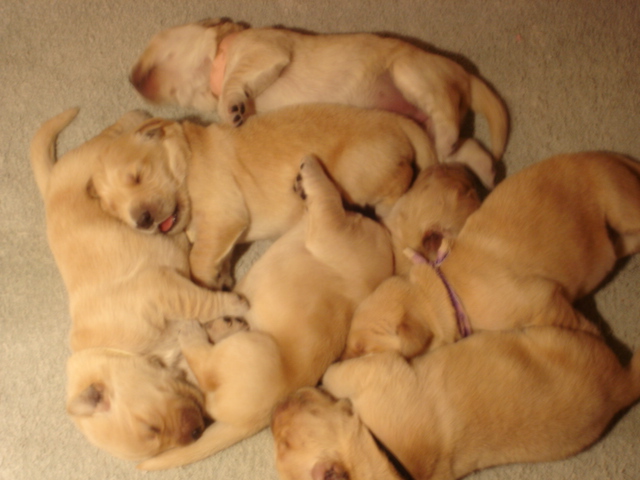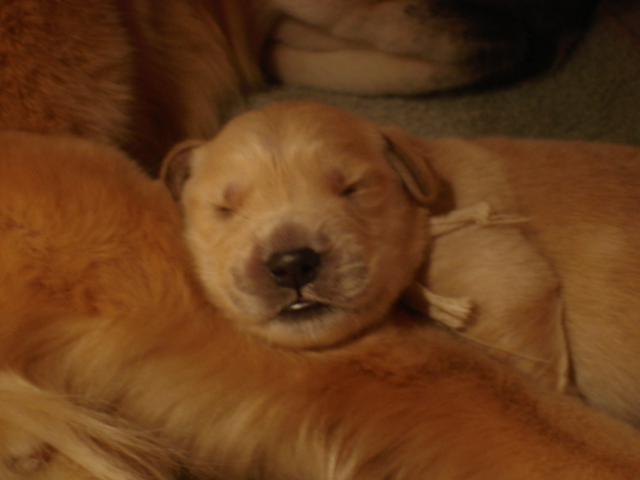 Allie with one week old babies…..11/9/2010
November 12, Happy Birthday Mama Allie!!!!!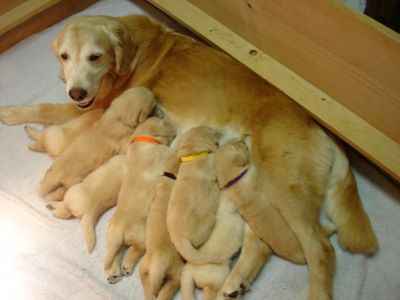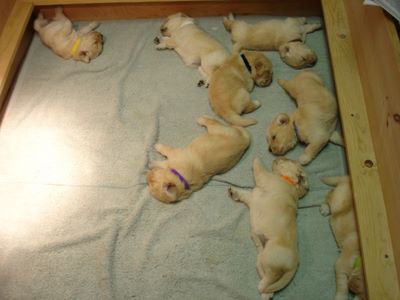 Allie with 3 week old babies…They hardly fit anymore!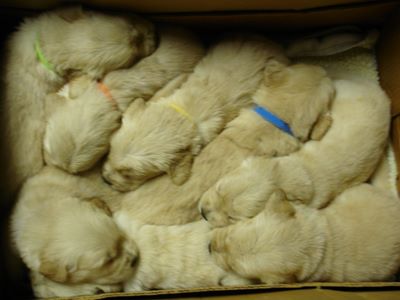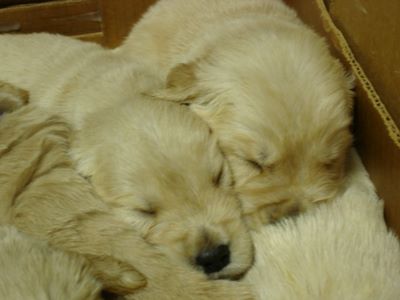 This box was way too big just one week ago…now they hardly fit. They love to snuggle….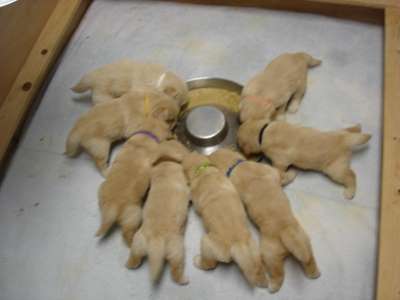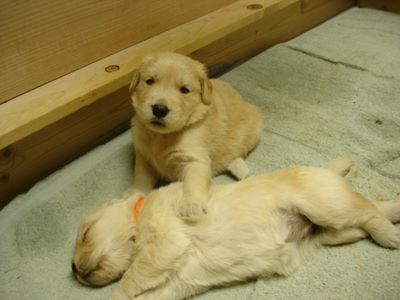 Thanksgiving Day…their first real meal…what a mess they make. This is my sister…she's sleeping!!!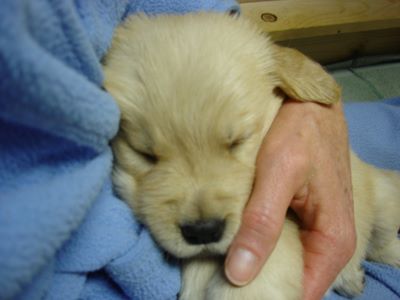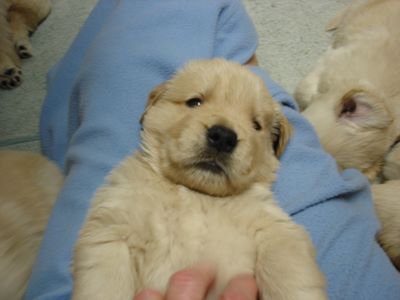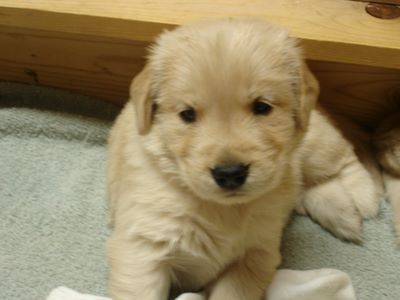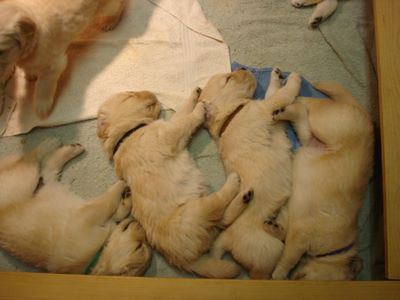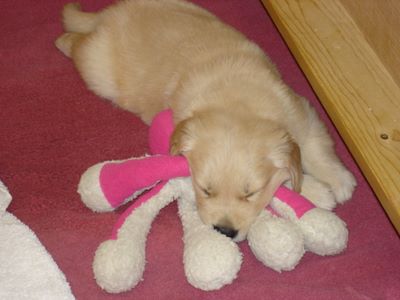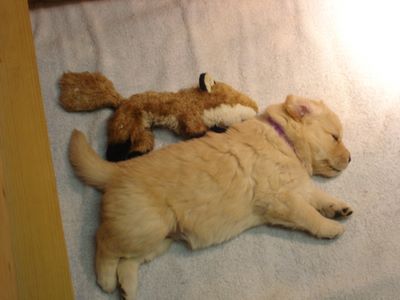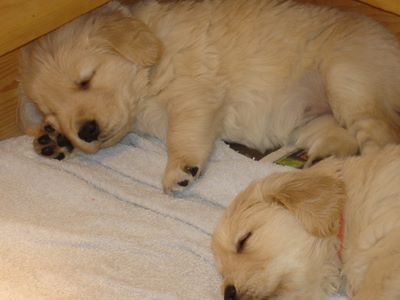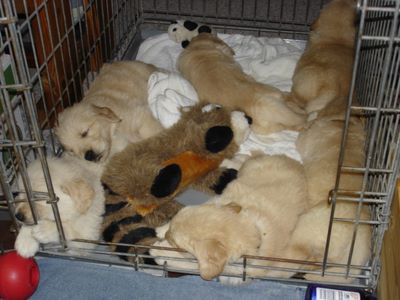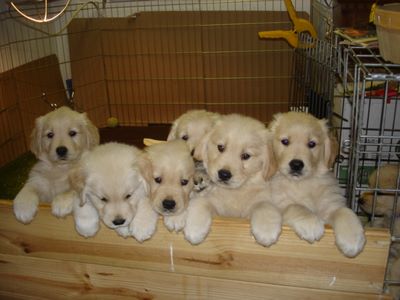 Guess who escaped first….the smallest one…Candy! 6 weeks old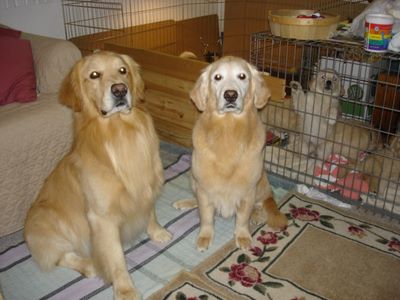 Me and the eight seven week olds. Daddy Toby and Mama Allie keeping watch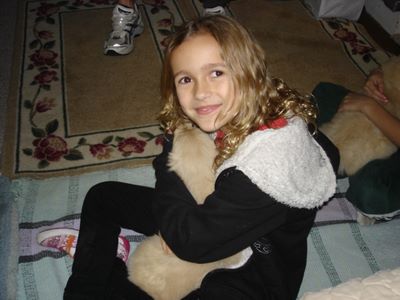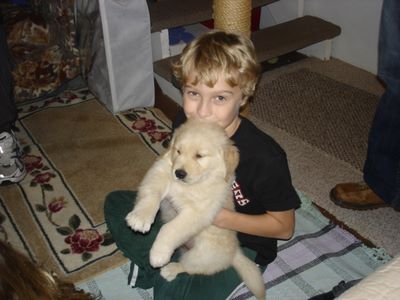 The grandkids come to visit…Ava and Julian.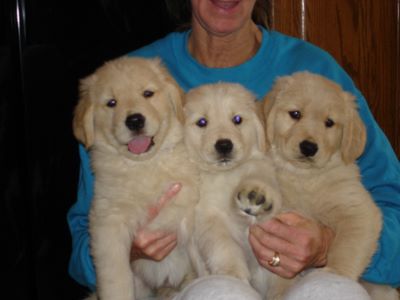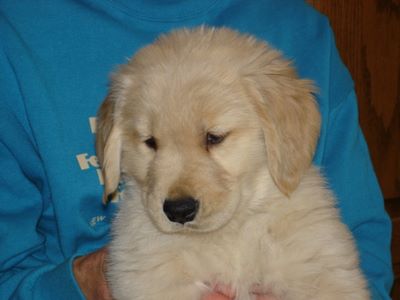 Lori, Candy and Sunny Clint at 7 weeks
Time has flown by and the puppies are going to their new homes. Now one day shy of 8 weeks old..they are really growing and all doing great…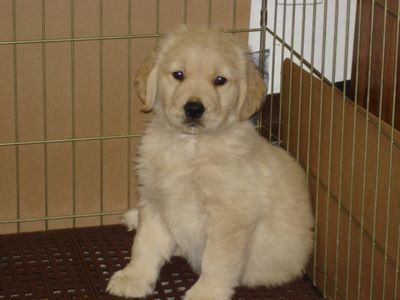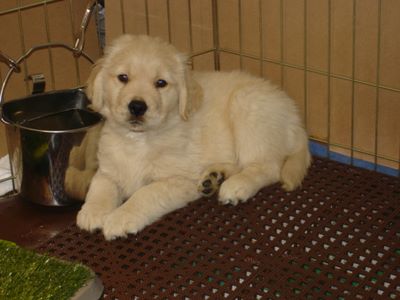 Chip ( brown collar)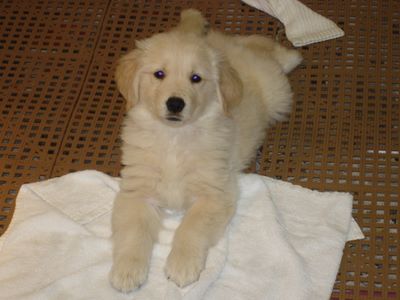 Lori, Chip and Clint Candy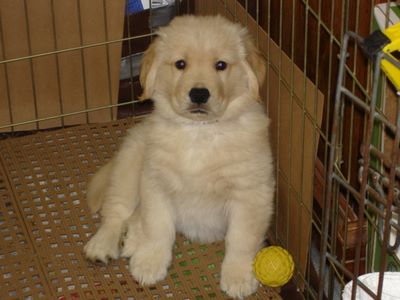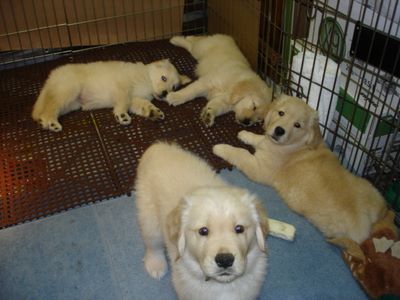 Clint Candy, Chip, Lori and Clint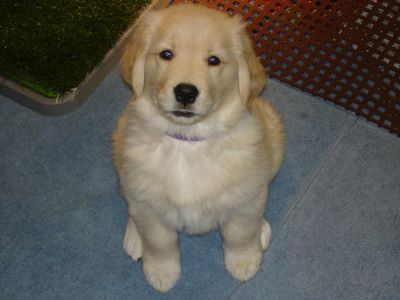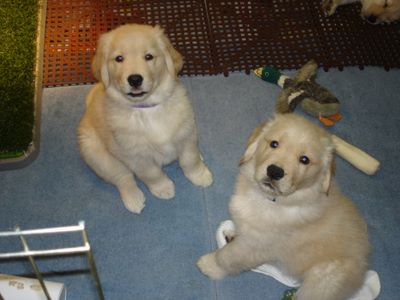 Lori Lori and Clint @ 8 weeks
Proud Mama Allie and Dad Toby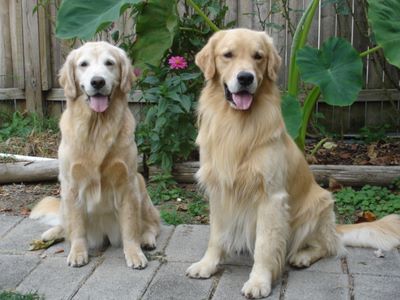 Allie and Toby
September 20, 2010
******************************************************************************************************************
Ultrasounds showed that we will be very busy Labor Day weekend…
both breedings took and we can hardly wait.
Well the girls couldn't wait until Labor Day. Check out the NEWS button…
Upcoming Litters are here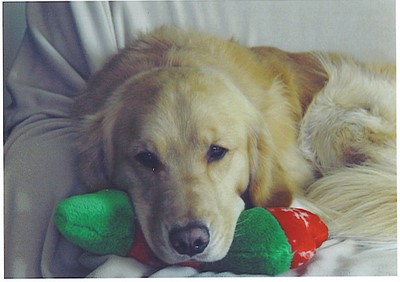 "BALOO" UKC-CH Laurell's Junglebook at Merrigold, CD, RN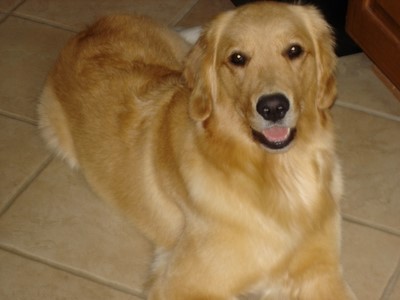 "LUCY" UKC- CH Goldenstar's Special Edition
LITTER DUE LABOR DAY WEEKEND…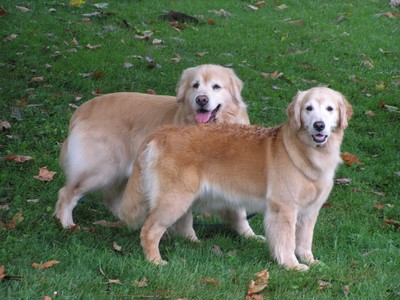 "Stanley" Stonecastle's Livingston
"Allie" UKC-CH Goldenstar's Bells R Ringing, NAJ